History of Massage Therapy
The practice of applying human touch as a method of healing originates from ancient customs and primitive medical techniques. Early civilizations in both the East and West discovered that massage could help in the healing of injuries, assist with pain relieve, and speed the curing of certain types of illness. Massage therapy as a practice takes those very basic principals and applies them in a scientific method. The word 'massage' is thought by medical experts to have it's roots in an Arabic language meaning to touch, knead or squeeze.

Massage as a healing therapy is clearly rooted in early medical techniques even though cultural and religious practices were responsible for suppressing it and labeling it a disreputable form of indulgence for extensive periods of time throughout history. Massage as a therapy has endured these ups and downs and is now experiencing a major resurgence as the list of measurable benefits continues to be verified and documented. Massage as a healing therapy currently stands as a universally accepted holistic practiced around the world.
Early massage was probably being performed long before the written word. Here is some of what we do now about the roots of Therapeutic Massage.
Ayurveda is the first documented technique as a five thousand year old system of natural healing that has its origins in India. Ayurveda is a traditional holistic medical system used throughout India. This system is based on health imbalances. Ayurveda recommends using the five senses to interact with the environment and create a natural balance. Treatments within the Ayurveda practice include aromatherapy, diet, color therapy, touch and sound.
Egypt is most often credited with developing reflexology sometime about 2500 BC. The practice of reflexology involves applying pressure to specific areas of the body. This is usually on the hands and feet so that the recipient receives the intended benefit on the areas of the body that connect to those particular zones.
Alexander Technique
Aquatic Massage Therapy
Bowen Technique
Deep Connective Tissue Massage
Deep Muscle Therapy
Feldenkrais Method
Integrative Manual Therapy
Joint Mobilization
Chinese documents dating back to approximately 2700 BC detail the numerous medical benefits of massage therapy. In China massage was developed from a combination of traditional Chinese medicine, practitioners of martial arts, Buddhists and Taoists who viewed massage as being important to spiritual training. Chinese massage and holistic healing methods include Tui Na, Amno, acupressure, acupuncture, treatments with herbal remedies, diet and exercise.
Japanese monks began studying Chinese massage around 1000 BC. They observed the healing action of traditional Chinese medicine in combination with various forms of massage. the Japanese began utilizing and modifying massage techniques learned from the Chinese and developed Anma which eventually transitioned into Shiatsu. The primary intention of Shiatsu is to raise the energy level in the patient while at the same time enhancing the immune system.
Kinesiology
La Stone Therapy
Lomi Lomi Massage
Manual Lymph Drainage
Massage Therapy for Babies
Geriatric Massage
Muscle Energy Technique
Neuromuscular Integration
Athletes in Ancient Greece between 800 and 700 BC started supplementing therapeutic massage into their conditioning process. This was a new way to increase their competitive levels and also improve recovery times. Practioners to the Athletes developed herbal remedies to use in combination with therapeutic massage to gain advantage over competitors.

During the Roman Empire about 200 BC, Emperors and the wealthy began using massage therapy to treat physical injuries and many types of diseases. Massage and other holistic therapy of the time were usually provided in the homes of the wealthy. As the practice of massage grew in popularity, the majority of Romans would receive massage and other medical treatments at the public baths.
The Swedish physician Per Henrik Ling is credited with developing modern Swedish Massage techniques during the early part of the eighteenth century. The massage techniques he developed are considered the foundation of all current therapeutic massage techniques.
On Site Massage
Myofascial Release
Neuromuscular Therapy
Oriental Massage
Prenatal Massage
Shiatsu
Reflexology
Rolfing Structural Integration
Over the past fifty to sixty years there has been an explosion of quantifiable data validating massage therapy. New medical devices capable of measuring body and organ functions that were until recently unknown, continue to add credence to the benefits of massage therapy. With today's emphasis on preventive healthcare, massage of many different techniques is being used as part of an overall wellness program in modern medicine.

If you want a massage for relaxation or you need one for physical therapy, you can choose from dozens of therapy styles. Each technique uses a specific set of pressures points or movements to achieve a desired result. All of the methods listed below involve rubbing, pressing or other muscle manipulation with hands, fingers and some even require forearms and elbows be used.
Sports Massage
Strain/Counter Strain
Thai Massage
Tui Na Massage
Watsu
Zero Balancing
Many medical experts believe that upwards of ninety percent of modern disease could be stress related. Not surprisingly it is estimated that internal and external stress is the primary factor in premature aging. Eliminating stress, anxiety and the pressures of modern life altogether isn't possible for most of us, indulging in a therapeutic massage can help your body manage more effectively.
Decreased Anxiety
Enhanced Sleep Quality
Enhances Rehabilitation
Improved Energy
Improved Concentration
Improves Flexibility
Increased Circulation
Improves Posture
Increased Range of Motion
Lowers Blood Pressure
Less Stress
Promotes Deeper Breathing
Promotes Easier Breathing
Reduced Fatigue
Relaxes Muscles
Relieves Headaches
Shortens Recovery Time
Strengthens the Immune System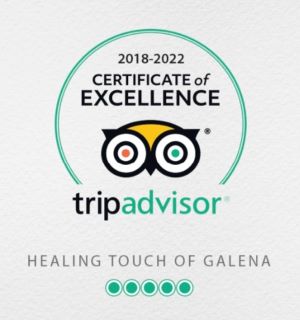 Kathy S - Galena, IL2 contributions
Wonderful Massage - Solo
Jerry truly has a "healing touch". He modifies his massage method to fit what I need at a particular session and even knows what I need without my telling him. The massage technique he uses loosens my tight muscles, relaxes and refreshes me. He skillfully combines warmth and caring with utmost professionalism.
Kathy Schleicher
Galena, Illinois
Written June 28, 2022
More reviews from Tripadvisor
Lbuffin - Oakland
Couples retreat - Couples
It was great having the massage come to us. We wanted a relaxing weekend and what's more relaxing than a massage in your hotel room. Gerald was great and the prices are more than fair. Written June 10, 2022
CTreb - Minneapolis
Girls Weekend Massages
We scheduled four of us for massages while on our girl's weekend in Galena. Gerald explains his background & his massage process very thoroughly. He customized each of our services based on our requested areas of concentration & those he felt needed extra stress relief. The greatest part was that he came to our Airbnb so we could relax in our own environment. Written June 7, 2022
Cstieny
Magic Touch
Besides being one of the kindest individuals I have ever met, Gerald also has magic hands that can relax muscles without digging into them. He shares his knowledge of the craft and passes on techniques that I can do myself. There are also his special oil recipes that enhance the relaxation experience. I highly recommend him. Written June 5, 2022
Jacqueline O
Magic Healing hands - Couples
Gerald was kind enough to come out to our Airbnb for my birthday weekend and the message was nice and relaxing. Very friendly personality, easy to talk to which is a plus and bonus he fixed the tension in my neck and shoulders - he's very gifted at what he does. Highly recommend him. Written May 31, 2022
59mlk - Oak Lawn, IL
Hands down the best massage ever!
Thank you Gerald! The massage was wonderful and my back has felt much better. That was the BEST massage that I have had and I appreciate all of your kind advice. If you are looking for a massage in Galena definitely see Gerald. Written May 20, 2022