Gerald Moore Massage Therapist
Massage is about you but I hope the information below will make you comfortable about my dedication to your satisfaction.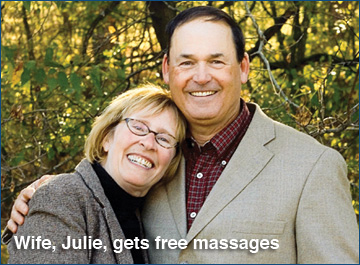 Married to Julie since we were twenty-two. One of our three children, Geoff, designed my original website. We live in the Galena Territory and share our home with five horses, three dogs and three cats.
My background includes a BA degree with an English major with minors in Philosophy and Theology. I spent all of my career in Buying and Marketing Management, mostly at Sears Roebuck's national headquarters.
I used massage for stress relief in my last ten years of my career. I have had massages almost everywhere in the world that business took me: China, Hong Kong, Turkey, Pakistan, France, Spain and the United States.
I was drawn to massage as a second career because it is a positive experience for the client and therapist – compared to the pressures of business performance careers.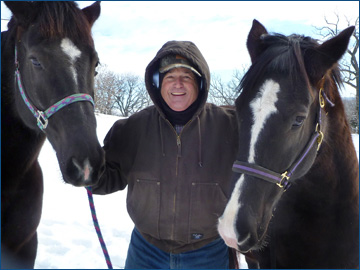 I was formally trained in massage at Capri College in Dubuque, Iowa.
I am insured and certified as a member of the Associated Bodywork and Massage Professionals (ABMP # 625940)
I am licensed by the State of Illinois (State License # 12121853).
Neck, shoulders and lower back issues are my areas of concentration and expertise. I've spent twelve years developing techniques that address relief and relaxation here. I am capable of delivering any kind of pressure you desire from gentle to deep tissue and am fit enough to work eight hours for your group. I now have over twelve years of massage practice.
Please Call – Text – Email to schedule an appointment 815-777-4128 Email Link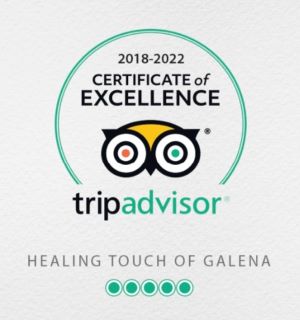 Kathy S - Galena, IL2 contributions
Wonderful Massage - Solo
Jerry truly has a "healing touch". He modifies his massage method to fit what I need at a particular session and even knows what I need without my telling him. The massage technique he uses loosens my tight muscles, relaxes and refreshes me. He skillfully combines warmth and caring with utmost professionalism.
Kathy Schleicher
Galena, Illinois
Written June 28, 2022
More reviews from Tripadvisor
Lbuffin - Oakland
Couples retreat - Couples
It was great having the massage come to us. We wanted a relaxing weekend and what's more relaxing than a massage in your hotel room. Gerald was great and the prices are more than fair. Written June 10, 2022
CTreb - Minneapolis
Girls Weekend Massages
We scheduled four of us for massages while on our girl's weekend in Galena. Gerald explains his background & his massage process very thoroughly. He customized each of our services based on our requested areas of concentration & those he felt needed extra stress relief. The greatest part was that he came to our Airbnb so we could relax in our own environment. Written June 7, 2022
Cstieny
Magic Touch
Besides being one of the kindest individuals I have ever met, Gerald also has magic hands that can relax muscles without digging into them. He shares his knowledge of the craft and passes on techniques that I can do myself. There are also his special oil recipes that enhance the relaxation experience. I highly recommend him. Written June 5, 2022
Jacqueline O
Magic Healing hands - Couples
Gerald was kind enough to come out to our Airbnb for my birthday weekend and the message was nice and relaxing. Very friendly personality, easy to talk to which is a plus and bonus he fixed the tension in my neck and shoulders - he's very gifted at what he does. Highly recommend him. Written May 31, 2022
59mlk - Oak Lawn, IL
Hands down the best massage ever!
Thank you Gerald! The massage was wonderful and my back has felt much better. That was the BEST massage that I have had and I appreciate all of your kind advice. If you are looking for a massage in Galena definitely see Gerald. Written May 20, 2022