About Massage
A massage can do wonders for you, both physically and mentally. No longer considered just an indulgence, massage is also recognized as effective treatment for stress and anxiety, improved blood circulation and lymph function and relief of muscle and joint soreness.
There are many kinds of massage that descend directly from Sweden, Germany, France, England and the Orient. The common link among all the methods is interaction with muscles, muscle attachments and circulation (As opposed to spine and bone manipulation practiced by chiropractors).
My work involves the purest form of relaxation, primarily through the most popular form, Swedish massage. Swedish massage employs movements in a wide range of light to firm pressure. It can be slow and gentle, vigorous or bracing, depending on the client's needs or wishes. It can involve gentle stretching, hand and finger pressure, gentle tapping or thumping and some friction.
During my business career I was also fortunate enough to experience many forms of massage around the world. I try to combine the best forms that I have experienced into the most popular, Swedish Massage.
Whether you want to relax, relieve stress or work on neck, back, or shoulder tightness, I will do my best to accommodate your needs. You are the client and you may direct the kind of massage and touch you need.
Depending on the Season of the year I use cotton or flannel sheets, oils or creams, always bring a heating blanket and a selection of relaxing music and CD player.
Of course I'll be glad to discuss any of your needs or concerns before you make an appointment. Again, you are the customer!
For massage selections and pricing, see Massage Pricing page.

Massage Health Benefits Are Numerous
We all know that a massage feels great and the feeling can last for hours. That alone is reason enough for you to call me. But that's just one of the many benefits of getting a massage. Therapeutic massage has been successfully used as one of the resources in the overall treatment of these health concerns.
Sports Injuries
Massage can help the body pump higher levels of oxygen and essential nutrients into recovering tissues.
Headaches
Massage can help you relax, easing blood pressure and pain.
Fibromyalgia
There is no known cure for fibromyalgia so the best possible solution for some is symptom control through non drug methods and massage is at the top of the list for many.
Depression
Increasing the blood flow through massage can provide a natural lift in serotonin and dopamine levels that are associated with a feeling of well being.
Anxiety
Being able to relax is one of the best methods of coping with high levels of Anxiety. Massage is a natural way to reduce levels of the hormone cortisol which can be Anxiety related.
Stress
Just a single massage can help in lowering your cortisol, heart rate and insulin, which are all tied to stress
Insomnia
Dozing off on a massage table is fairly common. If you have then you don't need to be convinced that a massage can be an asset when sleeping is a problem. Massage can increase the feeling of relaxation and help eliminate some of the barriers to a restful sleep.
Back Pain
Therapeutic Massage helps people in pain feel better and function with less pain. Massage is also beneficial when attempting to decreased stiffness and increase your range of motion.
Despite its many healing benefits, massage isn't meant as a replacement for any type of professional medical care. It is best to let your doctor know when trying massage as part of a medical treatment.
Please Call – Text – Email to schedule an appointment 815-777-4128 Email Link
Serving Jo Daviess County, IL with Professional Massage Therapy
* East Dubuque Massage
* Galena Massage
* Apple River Massage
* Elizabeth Massage
* Hanover Massage
* Menominee Massage
* Scales Mound Massage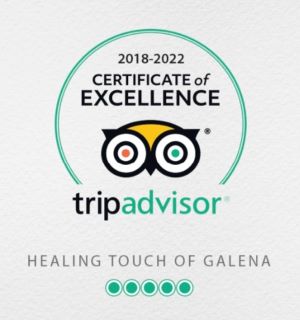 Kathy S - Galena, IL2 contributions
Wonderful Massage - Solo
Jerry truly has a "healing touch". He modifies his massage method to fit what I need at a particular session and even knows what I need without my telling him. The massage technique he uses loosens my tight muscles, relaxes and refreshes me. He skillfully combines warmth and caring with utmost professionalism.
Kathy Schleicher
Galena, Illinois
Written June 28, 2022
More reviews from Tripadvisor
Lbuffin - Oakland
Couples retreat - Couples
It was great having the massage come to us. We wanted a relaxing weekend and what's more relaxing than a massage in your hotel room. Gerald was great and the prices are more than fair. Written June 10, 2022
CTreb - Minneapolis
Girls Weekend Massages
We scheduled four of us for massages while on our girl's weekend in Galena. Gerald explains his background & his massage process very thoroughly. He customized each of our services based on our requested areas of concentration & those he felt needed extra stress relief. The greatest part was that he came to our Airbnb so we could relax in our own environment. Written June 7, 2022
Cstieny
Magic Touch
Besides being one of the kindest individuals I have ever met, Gerald also has magic hands that can relax muscles without digging into them. He shares his knowledge of the craft and passes on techniques that I can do myself. There are also his special oil recipes that enhance the relaxation experience. I highly recommend him. Written June 5, 2022
Jacqueline O
Magic Healing hands - Couples
Gerald was kind enough to come out to our Airbnb for my birthday weekend and the message was nice and relaxing. Very friendly personality, easy to talk to which is a plus and bonus he fixed the tension in my neck and shoulders - he's very gifted at what he does. Highly recommend him. Written May 31, 2022
59mlk - Oak Lawn, IL
Hands down the best massage ever!
Thank you Gerald! The massage was wonderful and my back has felt much better. That was the BEST massage that I have had and I appreciate all of your kind advice. If you are looking for a massage in Galena definitely see Gerald. Written May 20, 2022