Welcome to Healing Touch of Galena Massage Therapy

I am formally trained, certified, insured and licensed by the State of Illinois. I feel privileged to have done massage contract work at every Spa in Galena as well as the local Hospital, Physical Therapy and Fitness Center. I will travel anywhere in the Galena, Jo Daviess County area or come to my office/home in the Galena Territory. Schedule an appointment anytime of day or any day of the week, including Sunday.
I have been perfecting my approach for over twelve years of massage. I can create a Galena Spa like experience in your home, vacation condo or hotel room.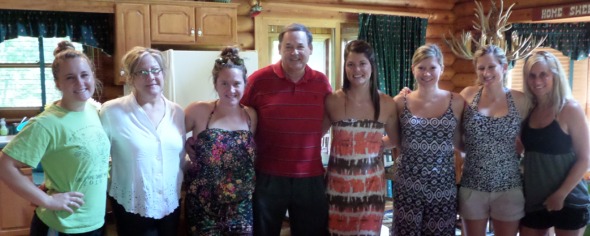 Massage and a Girls Weekend….. PERFECT
Available Massage Options
* Neck, shoulders and lower back massages (my primary expertise)
* Swedish Massage Galena Il
* Deep Tissue Massage
* Sports Massage
* Prenatal Massage
* Reflexology (hands, feet, ears)
My clients' testimonials are my best voice and promise to you…
Jerry – I can't tell you in words how much we enjoyed having you come to our cabin this past weekend at Apple Canyon Lake to do massages for my girlfriends and me. It was the best massage I have ever had – and each of the girls that came up after their massage said the same thing – "wow – that was awesome". I would highly recommend that everyone have you come to their home – there is something extra special about not having to leave the house and have you come by at their convenience and also to be able to enjoy a glass of wine or 2 with your friends while we are taking turns getting them. We really appreciated you accommodating our schedules also – coming Friday evening and then coming back Saturday morning when the others arrived was appreciated by all. Everyone commented on how great you were and so professional. The warm colorful socks were an unexpected and pleasant surprise which added to some additional photos and laughs for the weekend! Thank you again – I can't wait to have you back.
Thanks again – we will definitely have you back soon,
Mary Hannon
Apple River, Illinois
The Galena Illinois area is a popular destination for a variety of activities and a relaxing massage can easily be a part of your experience. A relaxing massage right at your B&B, hotel room or vacation home is a great way to end a busy day of sight seeing, shopping or just lounging around. If your day is more physically challenging and features a round of golf, carving up the ski slopes or a scenic hike, a therapeutic massage might be just the thing to help you unwind and wake up refreshed instead of sore. How much better would a girls weekend be with an invigorating massage to go along with a glass of wine and the great conversation, without ever leaving your room!
Call, text or use my email contact form to schedule an enjoyable and therapeutic massage.
815-777-4128 Contact Form
As a traveling Massage Therapist my services are available for residents, vacationers and visitors to Galena and Jo Daviess County IL. Being able to offer you a great massage with the added convenience of a scheduled appointment, eliminates any excuse you may have not to treat yourself to one of lifes simple pleasures. A relaxing massage is just a call away without driving in the dark, snow or rain. Maybe just eliminating the time involved in getting to and from the spa can enhance the experience and allow you to squeeze a relaxing massage into your busy day or night.
Spas are not the only place to experience total relaxation!
Jo Daviess County Traveling Massage
East Dubuque Mobile Massage
Galena Traveling Massage
Apple River Mobile Massage
Elizabeth IL Massage
Hanover IL Massage
Menominee Massage
Scales Mound Massage